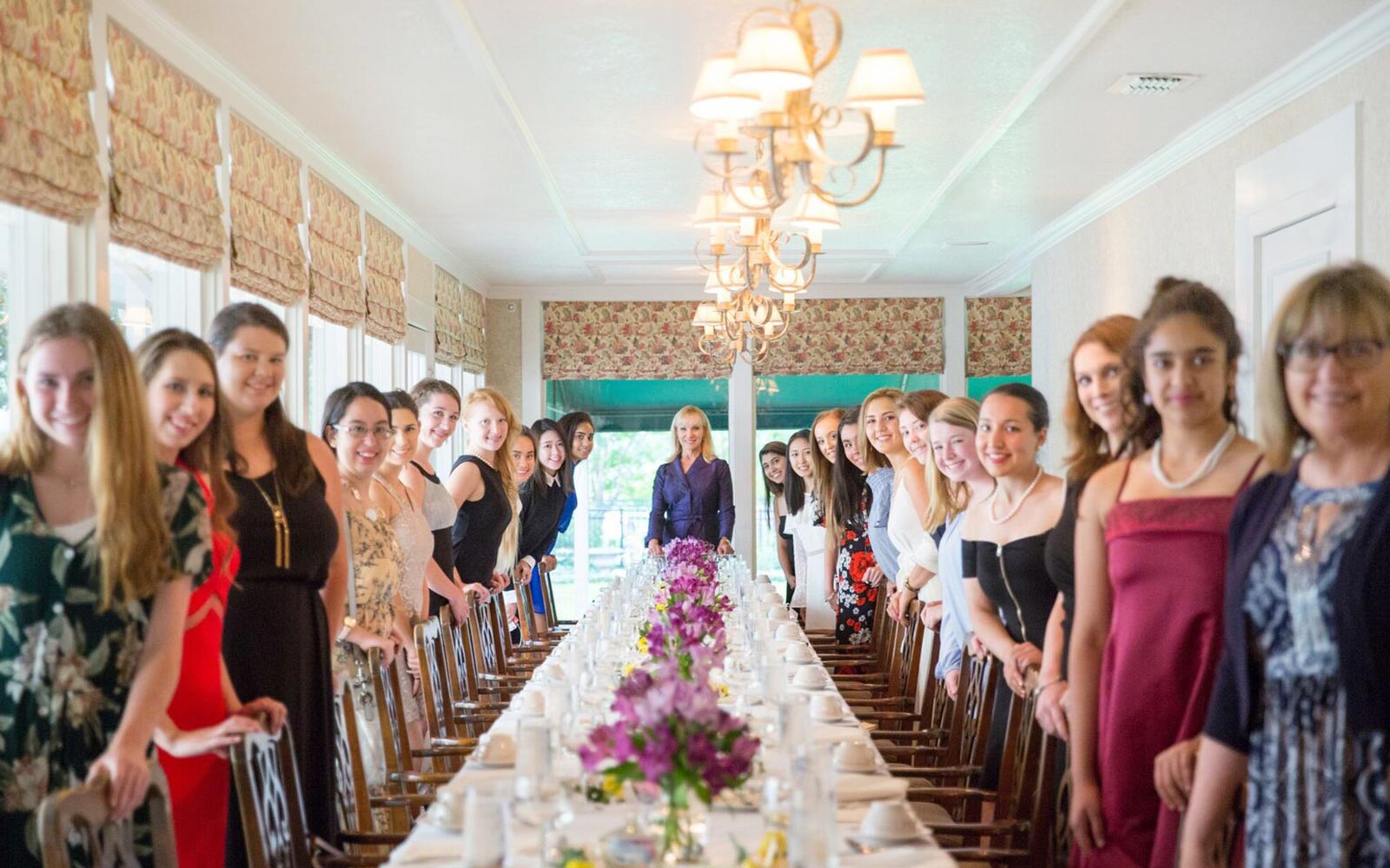 "I LOVED every minute of it!!!"
"I LOVED every minute of it!!!"
"It profoundly and permanently changed every aspect of my life."
"It profoundly and permanently changed every aspect of my life."
"We learned how to boost our power and be taken seriously without giving up our warmth and approachability."
"We learned how to boost our power and be taken seriously without giving up our warmth and approachability."
"It inspired me to create positive change in myself and in my relationships."
"It inspired me to create positive change in myself and in my relationships."
"I told my dad I did not want to ever leave."
"I told my dad I did not want to ever leave."
"I have so much newfound confidence."
"I have so much newfound confidence."
"What you accomplish in the course of a week is truly miraculous!"
"What you accomplish in the course of a week is truly miraculous!"
"Your voice will continue to motivate me forever!"
"Your voice will continue to motivate me forever!"
Young women from all around the world share meaningful experiences and gain confidence at Deluxe Life Skills Camp.
Confidence Building Leadership Camp
Ladies, do you feel prepared to confidently enter the next phase of your life? New settings require new skills. Whether you are transitioning to college, the workplace, or a new professional endeavor, your social skills will either set the stage for your success or sabotage your relationships. Once a year, twenty young women gather to experience a transformative week at Deluxe Life Skills.
Experience Incredible Results
This powerful leadership program equips you with a profound sense of confidence as you master critical skills that you will use for a lifetime. Deluxe Life Skills delivers practical tools that every woman should have in her arsenal, including Introductions, First Impressions, Managing Difficult Conversations, Nonverbal Communication, Strategic Networking, Polished Presentations, Electronic Etiquette, Wardrobe Building, Posture, and more! We offer so much more than a traditional finishing or charm school! See why women leave this incredible week saying, "You have profoundly and permanently changed every aspect of my life for the better, and I will forever be grateful for it. What you accomplish in the course of a week is truly miraculous!"
Make Lifelong Friendships
The women who attend Deluxe Life Skills come from a wide range of backgrounds. A few women come with a friend or relative, but most arrive at the program alone. Each woman arrives with slightly different expectations (and fears) but—without fail—each woman leaves this incredible week having made new friends, often establishing relationships that will last a lifetime.
Receive Personalized Attention
Deluxe Life Skills is limited to 20 participants to ensure that every woman receives one-on-one attention from internationally recognized civility and etiquette expert Deborah King along with a team of image, etiquette, and communication experts. The group delivers unparalleled instruction targeted to address the unique needs of every woman that attends this powerful program.
Beautiful, All-Inclusive Setting
A first-class venue in beautiful Glen Rose, Texas.
Deluxe Life Skills is held at the Inn on the River. The Inn is a small boutique hotel in the beautiful town of Glen Rose, Texas (located southwest of the Dallas-Fort Worth Airport). The staff at the Inn is exceptional. Family owned and operated, they strive to exceed your expectations. Deluxe Life Skills attendees occupy the majority of the rooms at this safe and serene venue during our week stay, making it the perfect place to gather. The ladies can enjoy a stroll along the river or a quick shopping trip in town during our short afternoon break each day.
Deluxe Life Skills is all-inclusive; everything is covered once you arrive at the Inn. In addition to elegant overnight accommodations, you will enjoy delicious, multi-course meals for breakfast, lunch, and dinner, along with a morning and afternoon snack and endless beverages. Participants receive personal, hands-on dining etiquette instruction at every gourmet meal. The week culminates in a beautiful and memorable Dining Skills Banquet; this elaborate, four-course dining experience gives participants the opportunity to demonstrate their newly acquired skills. The Banquet is a special night, cherished by every graduate who has gathered around the table.
Call (206) 510-5357
with questions about Deluxe Life Skills.
Jessica shares her experience at Deluxe Life Skills.
Alexis shares her experience at Deluxe Life Skills.
"The week at Final Touch is more than words. Each girl brings a story to tell and instills a part of life to focus on with each other. I will forever be grateful for each conversation, and for each session. The week reminds you of your worth, and brings to attention a much needed focus on etiquette and class. Thank you again for the days at the Inn on the River."
Grace
More Client Feedback...
"I walked away with an abundance of practical skills (I have no doubt that I could step into a job interview tomorrow and be completely prepared thanks to Deborah and her wonderful instruction), but I didn't realize that my biggest take away would be in how I saw myself. Never in my life did I expect that it would be one of the most influential and transformative weeks of my life. As many have said before me, it is hard to describe what exactly takes place. I have so much newfound confidence in myself, and in my ability to make others feel comfortable, valued, and loved. Deborah invests so much time and energy in each of her students, caring deeply about our personal growth and bringing warmth, humor, and knowledge to each lesson and meal. On top of all of this, I met some incredible women who inspired me and supported me throughout the week and made me feel welcome and appreciated. I have never experienced so many women supporting other women as I did during Deluxe Life Skills. Ultimately, this experience was unique because of how, in such a short amount of time, it inspired me to create positive change in myself and in my relationships. I am so thankful I took a leap of faith and signed up."
Madison
"Even though your teaching lasted only a week, your voice will continue to motivate me forever! Every moment I spent with you was inspiring and something I will never take for granted. The camp was spectacular, but your teaching was what made it inspiring. Thank you for being a part of one of the greatest highlights of my life!"
Deborah
"You have profoundly and permanently changed every aspect of my life for the better, and I will forever be grateful for it. What you accomplish in the course of a week is truly miraculous!"
Jennifer
"My daughter went to this and LOVED every minute of it!!! I cannot even begin to explain all of what she learned and how it has blessed her. She brought this amazing knowledge home and has shared it with me and her little sister and it has changed the patterns of how we live and feel about ourselves in a healthy way. This is powerful information that has been lost in our culture but is key to a woman's ability to find balance, recognize and maintain her own sense of self, and the boundaries that back her up–and WHY it matters to do so. Deborah King has the great gift to inspire and uplift. Thank you!!!"
Dorothy
"So often we are told to be confident, and yet we aren't taught how. Here we learned how to boost our power and be taken seriously without giving up our warmth and approachability. How to hold our chin level with the ground and still smile. This week was about so much more than changing how other people see us, it was about changing how we see ourselves, and how we can take everything we have learned and walk back into the world and navigate it with civility at the heart of everything we do. We learned dining etiquette and how to boost our authority and appearance through our wardrobe. We learned the importance of dressing for our body type, the power of a first impression, and how to make a good and lasting one. We learned how to hold ourselves both visually and in our own esteem. Entering into this experience, I wouldn't have thought that a week could change a person with any level of depth or permanence. Yet that it what I saw happen in every woman at this camp including myself. Not only has Final Touch given me the beginnings of a myriad of skills, it has instilled in me a desire to keep developing those skills and inspired me to work towards not just a career or a family or a certain social standing but towards becoming the woman I want to be."
Elissa
"I thought I was a people person before, but what I learned was I could never truly lead to the scale I wanted with the tools I had. I learned how to pay attention to what makes other people tick. I learned my communication style would just appeal to people with my communication style, which leaves a whole bunch of talented people out of my reach. Now I am aware to use other people's drivers and communicators rather than my own."
Kendahl
"You and your wisdom continue to bless our family. Just this past week we were trying to explain to our 7-year-old the apparent dichotomy of 'do not worry about what other people think of you, be true to yourself' and 'having good manners, because of how other people will feel around you.' Our daughter who attended Deluxe Life Skills, was able to explain it clearly, 'Deborah King taught us….' and then she explained about avoiding drawing attention to oneself (and why!) and various methods for including others, keeping your own integrity intact and so on. It was a very powerful thing. Her dad and I agree that the money we spent this past summer was one of the best investments ever made in her future as well as in our own family's well-being."
Dorothy
"I thoroughly enjoyed all the information I learned, and I enjoyed meeting you and all the other amazing woman this past week. Now that I am back in Chicago I find myself non-stop talking about the program and using the information I learned in my day to day life and during my days as an intern. Without a doubt, attending your school was one of the best things to happen to me. It is extremely hard to put into words just how great you are and how informational the class was. Like I mentioned to you, I told my dad I did not want to ever leave. Regards and a BIG thank you!"
Corinne
"I am delighted to report what a positive difference Deluxe Life Skills has made in the life of my daughter, as well as, the impact on our family dynamics. You were truly able to touch the heart of my daughter and enabled her to see her challenges in a different light, resulting in greater confidence and a brighter outlook all together. For that, I am indebted and so grateful! [My daughter was] willing to engage in conversation and appeared certain she has something to contribute and a readiness to enjoy what others might share without losing herself. What a nugget of gold! Thank you for reaching our daughter in a way we have not been able to as her parents. Of course, mom, dad and siblings enjoyed learning some of the proper behaviors at the dinner table, too. Our family was definitely positively affected upon our daughter's return and I am so very grateful for you and your program!"
Paula
"Thank you for such a wonderful week. I learned so much about having poise and confidence with everything I do. There is so much more than walking and talking that goes into being a lady. It takes thinking differently to change one's behavior, so when we encounter conflict and roadblocks we will be able to grow around it and keep our eyes fixed ahead, not on our past. After all, our scars tell a story. I really appreciated having the opportunity to learn everything you taught us this past week. I met so many lovely ladies at Deluxe Life Skills camp and would highly recommend it to everyone. Thank you again for such an amazing experience."
Laura
"At age 18 our precious daughter was ready to venture out into the professional world. She had been given many opportunities from an early age to experience a wide variety of "life". However, we noticed she needed some important personal skills refined. Deborah King's knowledge of image and fine etiquette details gave our daughter the perfect abilities to step out and begin her new journey with ease and confidence. Thank you for the boost you gave our daughter."
Lynn